Troparia of the Resurrection
---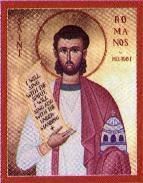 One of the greatest treasures of the Orthodox Church can be found in Her music. The study of Orthodox hymnology is a life-long pursuit. The great hymnographers of the Church, among them St. Romanos and St. Ephrem, wove melody, text, and theology together to create a seamless and unbreakable union of music and prayer. It is far beyond the scope of this simple web page to try to instruct hopeful chanters on all of the finer techniques and nuances of Orthodox chant. Many fine books are available on the subject.

Keeping that in mind, I present to the reader the following reference materials. If they spark even the slightest interest in learning more about Byzantine Chant or the Orthodox Faith itself my efforts will have not been in vain.

Sincerely,
The unworthy subdeacon,
John


---


The eight tones (Octoechos) of Orthodox hymnology are derived from very ancient Greek and Middle Eastern pre-Christian melodies. Each tone has its own flavor, or character. The easiest way to demonstrate the different characteristics of each is by listening to the Troparion of the Resurrection in each tone. The following are in the Antiochian tradition as translated by Basil Kazan in his Byzantine Music Project.


Tone One
While the stone was sealed by the Jews, and the soldiers were guarding Thy most pure body, Thou didst arise on the third day, O Saviour, granting life to the world. For which cause the Heavenly Pow'rs cried aloud unto Thee, O Giver of Life: Glory to Thy resurrection, O Christ! Glory to Thy Kingdom! Glory to Thy Providence, O Thou who alone art the Lover of Mankind.
Tone Two
When Thou didst submit Thyself unto death, O Thou Deathless and Immortal One, then Thou didst destroy Hell with Thy Godly pow'r; and when Thou didst raise the dead from beneath the earth, all the pow'rs of Heaven did cry aloud unto Thee:O Christ Thou Giver of Life, Glory to Thee!
Tone Three
Let the heavens rejoice and the earth be glad; For the Lord hath done a mighty act with His own arm; He hath trampled down death by death, and became the first-born from the dead; He hath delivered us from the depths of Hades, granting the world the Great Mercy!
Tone Four
Having learned the joyful message of the resurrection from the angel, the women disciples of the Lord cast from them their parental condemnation, and proudly broke the news to the disciples, saying: Death hath been spoiled. Christ God is risen, granting the world great mercy!
Tone Five
Let us believers praise and worship the Word, co-eternal with the Father and the Spirit, born of the Virgin for our salvation; For He took pleasure in ascending the Cross in the flesh, to suffer death, and to raise the dead by His Glorious Resurrection.
Tone Six
When Mary stood at Thy grave looking for Thy sacred Body, angelic pow'rs shone above Thy revered tomb, and the soldiers who were to keep guard became as dead men. Thou led Hades captive and wast not tempted thereby; Thou didst greet the Virgin and didst give life to the world; O Thou Who art risen from the dead, O Lord, Glory to Thee!
Tone Seven
Thou didst shatter death by Thy Cross; Thou didst open Paradise to the thief; Thou didst turn the sadness of the ointment-bearing women into joy, and didst bid Thine Apostles proclaim a warning that Thou hast risen, O Christ, granting to the world the Great Mercy!
Tone Eight
From the heights Thou didst descend, O Compassionate One, and Thou didst submit to the three-day burial, that Thou might deliver us from passion; Thou art our life and our resurrection: O Lord, Glory to Thee!
---
Back to St. George Homepage